Title: Near Abroad — Putin, the West and the Contest over Ukraine and the Caucasus
Author: Gerard Toal
Publisher: Oxford University Press; 1 edition (2017)
ISBN-13: 978-0190253301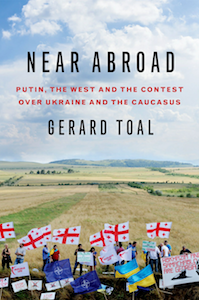 ---
Gerard Toal has written an insightful book about the geopolitics of the former Soviet Union. Through case studies of South Ossetia and Ukraine, Toal unfolds the complexities of the geopolitical field and exposes prejudices on all sides.
---
Professor Gerard Toal is one of the prominent proponents of critical geopolitics. Through his career, he has contributed extensively to the development of this theoretical framework which places itself in opposition to more traditional schools of international relations theory like realism and liberalism.
His latest book, Near Abroad: Putin, the West and the Contest over Ukraine and the Caucasus, is not a book about the theoretical framework. Toal's intention is to contribute to a scholarly understanding of the unfolding conflicts between Russia, its neighbors, and the West. He does this by examining the conflicts in South Ossetia and Ukraine which erupted into wars in 2008 and 2014 respectively.